The Archives Room is open Mondays from 12 p.m. to 3 p.m. and Wednesdays from 10 a.m. to 3 p.m or by appointment. General search assistance is available to the public free of charge and provided entirely by volunteers. Because this department is manned on a strictly volunteer basis, it is advised that you call the library at 539-2851 on the day of your visit to ensure that the Archives staff will be available.
Questions can be emailed to our volunteers at langworthyarchives@gmail.com.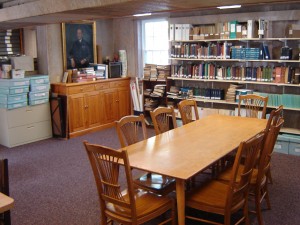 Information contained in the archives is basically local in nature including information about Hopkinton, Richmond, other South County towns and nearby Connecticut. Local history, genealogy, land evidence, scrapbook collections, state records, colonial records, civil war records, vital records, photographs and books are housed in the archives.
Some of the special collections:
1.The Gladys Palmer Collection contains local information concerning genealogy, land evidence, wills and local buildings.
2.The Lucy Tootell Genealogy and Local History Collection
3.Gladys Segar photograph collection is a wide ranging assembly of pictures of people and buildings in relevant areas.
4.Wood River Branch Railroad (1872), the original collection of Lucy Rawlings Tootell, Vice President of Wood River Branch Railroad, contains photographs, plans and documents.
5.Bernard Kenyon Collection of genealogy.