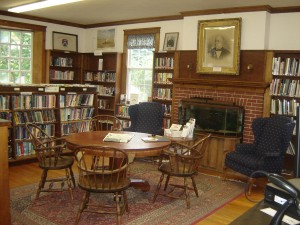 The very existence of the Langworthy Library is due to a generous gift from our original benefactor, Joseph Langworthy, in 1888. Since that time, many others who believed in the value of this community library have contributed to the giving tradition, sometimes in wills and bequests, sometimes on an annual basis. It is a fact of life today that libraries (particularly libraries like ourselves who are not part of the municipal government system) depend on good will and generosity in all its forms. Although some funding is provided as a donation from the town, and some from the state, your gifts of time and money, past and present, have allowed us to be the library we are: You play a vital role in preserving the texture and quality of this community by supporting our efforts to maintain a rare and historic collection of photographs and local documents, to offer attentive, personal service to all our patrons, and to provide a good, contemporary selection of materials in all media, for use by all ages.
Donations of any size for the purchase of new materials, equipment, or furnishings are gratefully accepted. In addition, there are many varied and unusual gifting possibilities. For example, a unique way to mark or remember an event or individual is to celebrate that person or event with a gift to the library. An identifying bookplate will be placed in that book, and notification, if you wish, will be sent. The Library Director is always happy to discuss giving options with you, whether your interest is in an anonymous gift, a memorial gift, or a bequest.(Actually, "happy" is a bit of a euphemism. The fact is, in all likelihood, the Library Director will immediately cease whatever she is doing to talk to you about this when you call.)
Inquiries about individual and group volunteering are always appreciated. There are many different ways to help out the library, from assisting with programs and re-shelving books to beautifying the outside and snow removal. Not only will you be helping serve the community, but you will also benefit from
gaining a feeling of accomplishment
working in a beautiful environment
learning about the library and all its resources
Openings in some programs can be limited, however; please call fill in the form below or (401) 539-2851 for further information.