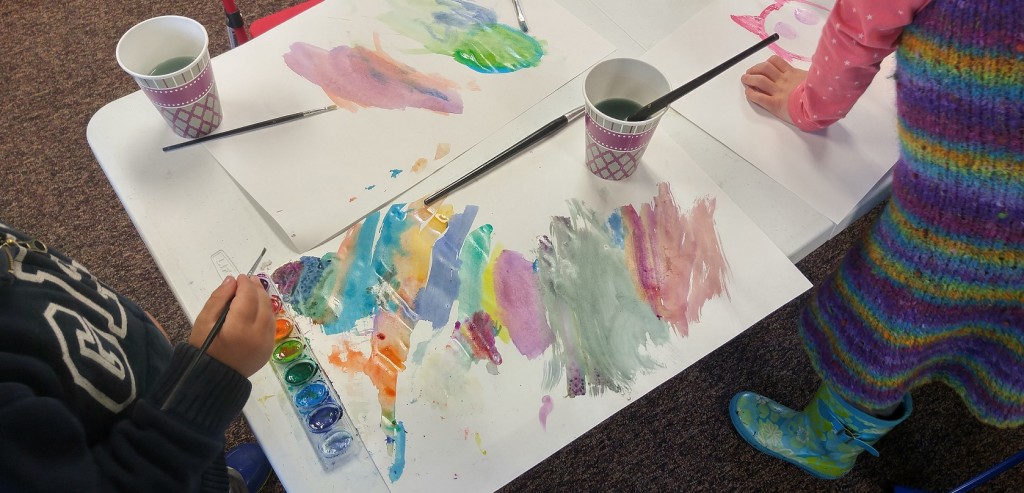 Langworthy Library's kids' room offers a variety of materials to borrow: picture books, chapter books, books for beginner readers, audiobooks, and movies.
There's always something fun to do in the kids' room – we have toys, games, puzzles, coloring pages, and other fun activities available whenever we're open!
We also offer regular children's programming, including storytimes and art club. If you'd like to stay up-to-date on what's happening at Langworthy for kids and teens, sign up for our youth services email newsletter here!
We also update our Facebook page frequently with event news and photos.
Summer Reading 2017

Begins June 19!
Calling all children between 0 and 12 years of age to enjoy our Summer Reading Program : Build a Better World. Registration begins on June 19 and continues through the program. Each reader age 6 to 12 receives a reading log to keep track of their summer reading time. Keep track of the time you read – for every 20 minutes, mark your reading log – and earn a raffle ticket for a chance at one of our 6 baskets. For every 80 minutes read, we have additional prizes.  Stop by the library to register, pick up your log and get started!
Children under 6 can also participate – we have a special program that encourages early literacy skills through fun activities.  Each completed activity earns a raffle ticket!
Teens are special – and our teen summer program requires a brief (1 or 2 sentences) review of 3 books to earn a raffle ticket for one of two baskets.
In addition, children and teen participants, will earn coupons for free admission to the listed Rhode Island attractions by participating in the summer reading program.
Basket winners will be pulled and announced at our 'Build an Ice Cream Sundae' party on Saturday, August 5th.
Join us for some great programs!!!
 Check back for additional programs!!
 playScience!
Rescheduled!!  Join us Wednesday, August 2 @ 3 pm


All ages, let us know if you are coming!

Let's wiggle, giggle, shake and shout!  Join us for an interactive music performance.  Kids will get to join the fun by helping sing and write songs; keeping rhythm by playing percussion; and last but not least, dancing!
Warm and Fuzzy Animals
Thursday, July 30th at 4:30 pm
All ages, let us know if you are coming!
A locally based business that offers a petting zoo with warm and fuzzy animals including bunnies, Guinea pigs, ferrets, chinchillas, ducks, hens and a rooster, tortoise and goats.  They provide hands on interaction that include petting, swaddling and feeding the animals.  Animals are contained in enclosures and children can sit down and cuddle them.  They also explain facts about the animals during the session.
Build Your own Ice Cream Sundae Party
Saturday, August 5 at 12:30 p.m.
Join us for our wrap up party.  Raffle basket prize winners will be announced (if you are not present, we will call you).  Join us for ice cream and some games.
The statewide Rhode Island Summer Reading Program is funded by the Institute of Museum and Library Services through the Library Services and Technology Act. Local support includes the Rhode Island Office of Library & Information Services, RI Children's and Young Adult Librarians.
QUESTIONS?